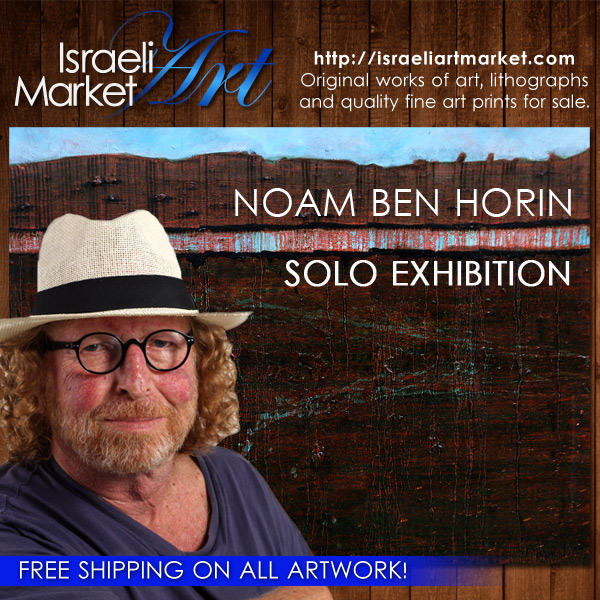 Noam Ben Horin was born in Israel, 1953. Noam Ben Horin graduated from the design and art academy of Betzalel, Jerusalem at 1982.
Since then he has presented his work in exhibitions in Israel and Europe.
Childhood views of Beit Sheaan Valley, life in urban surrounding, currant mind set, passing images, a daily news session all come together and crystallise in Noam Ben Horin's work into an abstract to semi abstract creation which attracts the observer into endless and eternal depths.
Exhibitions:
Donation from the Artist to the Opera House in Tel-Aviv
2012: Collection Year: Past and Future, Engel Gallery Tel Aviv
2011: Hapoalim Tel-Aviv
2010: One person exhibition,Hayek Center in Jaffa-Tel-aviv. Israeli Art Exibition on behalf of the war against AIDS – Bank Hapoalim
2008: 'The Search for the Lost City', group exhibition, Engel Gallery, Tel- Aviv
2006: Group exhibition Nirlat Center – Material Color and Light
2002: Group exhibition Beit Meirov Art Gallery Holon
2001: One person exhibition, Painters & Sculptures Association Gallery, Tel-Aviv
2001: One person exhibition, Center for The Performing Arts Tel-Aviv
2001: One person exhibition Danon Gallery
2000: This My Land, Group exhibition, Engel Gallery Tel Aviv
1999: End Of The Millennium, Group exhibition, Engel GalleryTel Aviv
1997: One person exhibition Engel Gallery Tel Aviv
1995: One person exhibition at D.S. Danon Galler Tel-Aviv
1995: One person exhibition – '5 stations' The Opera House Tel-Aviv
1990: One person exhibition Danon Gallery Tel Aviv
1992: Group exhibition Europe Art Geneva Switzerland
1988: One person exhibition Engel Gallery Tel Aviv
1976: Group Exhibition Tzavta Tel Aviv
1975: One person exhibition, Yedey Oman gallery Jaffa