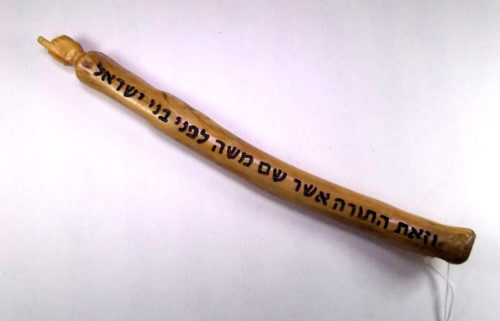 Olive wood YAD Torah pointer for Bar Mitzvah boy
Olive wood YAD Torah pointer for Bar Mitzvah boy
This handmade olive wood YAD (Torah pointer) made with love.
The olive tree is from Israel the holy land. It is very important for the Jewish tradition.
The olive tree mention in the bible a lot times.
This wood it is very hard and looks very nice.
The olive is one of the Seven Species of the holy land.
The pointer is for reading in the Torah in Synagogue.
On the Yad engraved in Hebrew fonts "וזאת התורה אשר שם משה לפני בני ישראל" from the bible
The hand engraved handily
It's nice gift for Bar Mitzvah boy.
The dimensions are:  L 9″, D 0.7″ +-.
Weight 39 Gram
I able to engrave the name Bar Mitzvah boy on the back of the pointer (20$), I this order is free.
Designed by Benny Hershkowitz Israel
Free shipping!